The Training Instructor Team
The primary FAA Master Parachute Rigger Instructors are Nancy J. LaRiviere, Marcelo Garcia, Michael Patterson and Chris Christenson. Parachute Rigging Institute also brings in guest instructors in aerodynamics, parachute rigging, sewing machine repair, and stitching.


Nancy J. LaRiviere – President of Parachute Labs Inc.

• Senior Parachute Rigger 1990
• Master Parachute Rigger 1998
• DPRE 2009
• Back, Seat, and Chest Ratings
• 7,000 jumps

Nancy is a graduate of the University of New Hampshire '83, with a B.A.in Fine Arts. She routinely uses her skills as an artist and illustrator in the creation of manuals and technical drawings.

She began skydiving in 1975, at the age of sixteen, in Orange, Massachusetts. From then on skydiving and general aviation remained at the center of Nancy's personal and professional life. She is a Licensed Commercial/Multi-Engine Pilot, Master Rigger, Test Jumper, a USPA AFF Instructor Examiner, Tandem Course Director/Examiner on the Racer Tandem System, a Freefall Videographer, Advanced Open Water Scuba Diver, avid snow skier and water skier. She was instrumental in the development of the Racer Tandem System as a test jumper and previously experienced Tandem Instructor. Nancy is also the Florida FAA Designated Parachute Rigger Examiner.

Nancy has held numerous Formation Skydiving World Records including the worlds' first 100 Way, the First 200 Way, the first 216 Way, and multiple Women's World Record Formations. She's represented the United States as a member of U.S. Parachute Team ten times competing in World Championships around the globe.


Her competition awards include 2 U.S. Nationals Gold Medals in Accuracy and Style & Accuracy Overall, 8 U.S. Nationals Silver Medals in Speed Style and Accuracy and 22 U.S. Nationals Bronze Medals in Speed Style, Precision Accuracy and 10 Way Speed Star; 2 POPS Nationals 1st place trophies and two World Championship Bronze Medals in Team Accuracy and Overall Nation. She has numerous regional 4 way, eight way, and 20 way competition awards. Nancy has made several movie and television appearances doing stunt work and hosting spots on the Learning Channel, NBC's How'd They Do That?, and To The Edge on the Outdoor channel. She did skydiving stunts in the 1995 Paramount movie, "Shadow Ops", and the 2006 motion picture, "The Good Shepherd".

She served as Editor of ParaNews Brief, the Parachute Industry Association newsletter, also as Secretary of the PIA from 1993-1996, and has served on several PIA committees. She has published several articles relating to rigging, parachuting safety and canopy control. Nancy is a Canopy Control coach and has run seminars at U.S. Drop Zones as well as around the globe for several overseas military and police organizations.
Nancy J. LaRiviere

Marcelo Garcia - President of The Freefall Shop

• Senior Parachute Rigger 2002
• Master Parachute Rigger 2005
• Back and Chest Ratings
• 2300 + jumps

Marcelo started skydiving in 1982 at the Original Skydive Spaceland, in League City Texas, as a young student he witnessed someone survive a very, very low cut away, and that got him interested in how parachutes work.

As a newbie in rigging he worked under many great names in the industry and eventually earned his Senior Rigger certificate. On his vacation times over the years he has spent time at factories around the country learning how the manufacturers do things and getting acquainted with their systems.

Marcelo opened his own parachute shop in 2003(The Freefall Shop) where his loyal following has grown over the years, with 52 saves to his credit including a pilot who had to egress from a damaged aircraft, the natural progression was to earn his Master Parachute Rigger Certificate in 2005. One might say this is his passion, not his career.

Marcelo Has taught riggers in Asia, Latin America and the US. He is our resident Spanish Speaking instructor (Marcelo was born and raised in Chile)

He was one of the organizers (And S&TA) of the First Civilian Boogie in Laos in 2007 and has worked behind the scenes in various international events in the past.

His philosophy is "You never stop learning. The day you think you know it all you should quit. I have learned new things from the least likely sources. NEVER waste an opportunity to learn something new. It's like a free upgrade to your software - you never know when it may come in handy."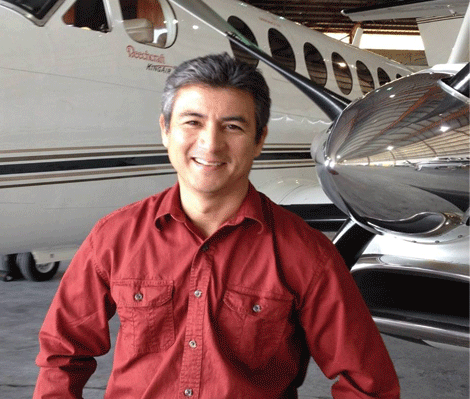 Marcelo Garcia


Michael Patterson - Master Rigger at Parachute Labs, Inc.
• Senior Parachute Rigger
• Master Parachute Rigger
• Back, Seat and Chest Ratings


Michael grew up on a drop zone and has been packing parachutes since he was seven years old.
He has over 4000 jumps and is a USPA AFF Instructor, Tandem I/E, and FAA Master Rigger. In addition
to being an experienced test jumper, Michael is a videographer and wingsuit instructor.
He served in the US Army for 10 years doing tours in Saudi Arabia, Kuwait and Iraq.


Chris Christenson - President of Ballenger International, LLC

• Senior Parachute Rigger 1981
• Master Parachute Rigger 1986
• Back, Seat, and Chest Ratings
• 3400 + jumps

Ms. Christenson began her skydiving career jumping in 1978 in Littleton, CO and then moved to the east coast to further pursue the sport. Chris graduated from Eastern Connecticut University with a B.S. in Business Administration and an M.S. in Organization Management. She was fortunate enough to move back to Gunnison, CO in 2005 where she currently resides.

Chris been an active member of the United States Parachute Association since 1978 and has accumulated over 3,400 parachute jumps. She has competed in the U.S. Style & Accuracy Nationals since 1984 and was a three-time member of the United States Style & Accuracy Parachute teams, competing internationally in 1984, 1988, and 1996 and accumulated numerous trophies and ribbons during this time.

Chris's devotion for the sport of parachuting, took her to even higher levels of accomplishment besides jumping. She became a certified FAA Senior Parachute Rigger, followed by her certification as an FAA Master Parachute Rigger. She was the Master Parachute Rigger at United Parachute Technology for a number of years and was Chief Parachute Rigger at CPI (Connecticut Parachutists Inc.) Chris also holds USPA Static Line and Accelerated Freefall Jumpmaster certification. Additionally, she has trained parachute riggers for military units throughout the world.

In 1982 Chris created an all-women's demonstration team in Florida known as the "Misty Blue's." The woman's team performed demonstration jumps in conjunction with air shows and for several charity organizations throughout the state. Chris hold's several World Records including the World Record Group Accuracy in 1986, and the World Record for Women's Freefall Formation in 1989.

Ms. Christenson has been an active member of the Parachute Industry Association, (PIA) since 1986 and has co-chaired on several various committees. She has worked in the parachute industry since 1978 for several major parachute manufacturers, including owning her own parachute company for 8-years, New England Parachute Company; specializing in the manufacture of the "Challenger" accuracy parachute sold worldwide.

Today, Chris founded and is President of Ballenger International, LLC and specializes in working with foreign military and law enforcement for their tactical/sport parachutes, aerial delivery equipment, weapons, ancillary equipment requirements and specialized training facilities. She also holds her PRO Parachute Rating and performs demonstration parachute jumps into Air Shows and the annual "Cattlemen's Days" rodeo in Gunnison, Colorado. Not only is Chris an avid parachutist, she also enjoys Alpine and Noridic skiing, hiking, biking, horse-back riding and kayaking.



Chris Christenson